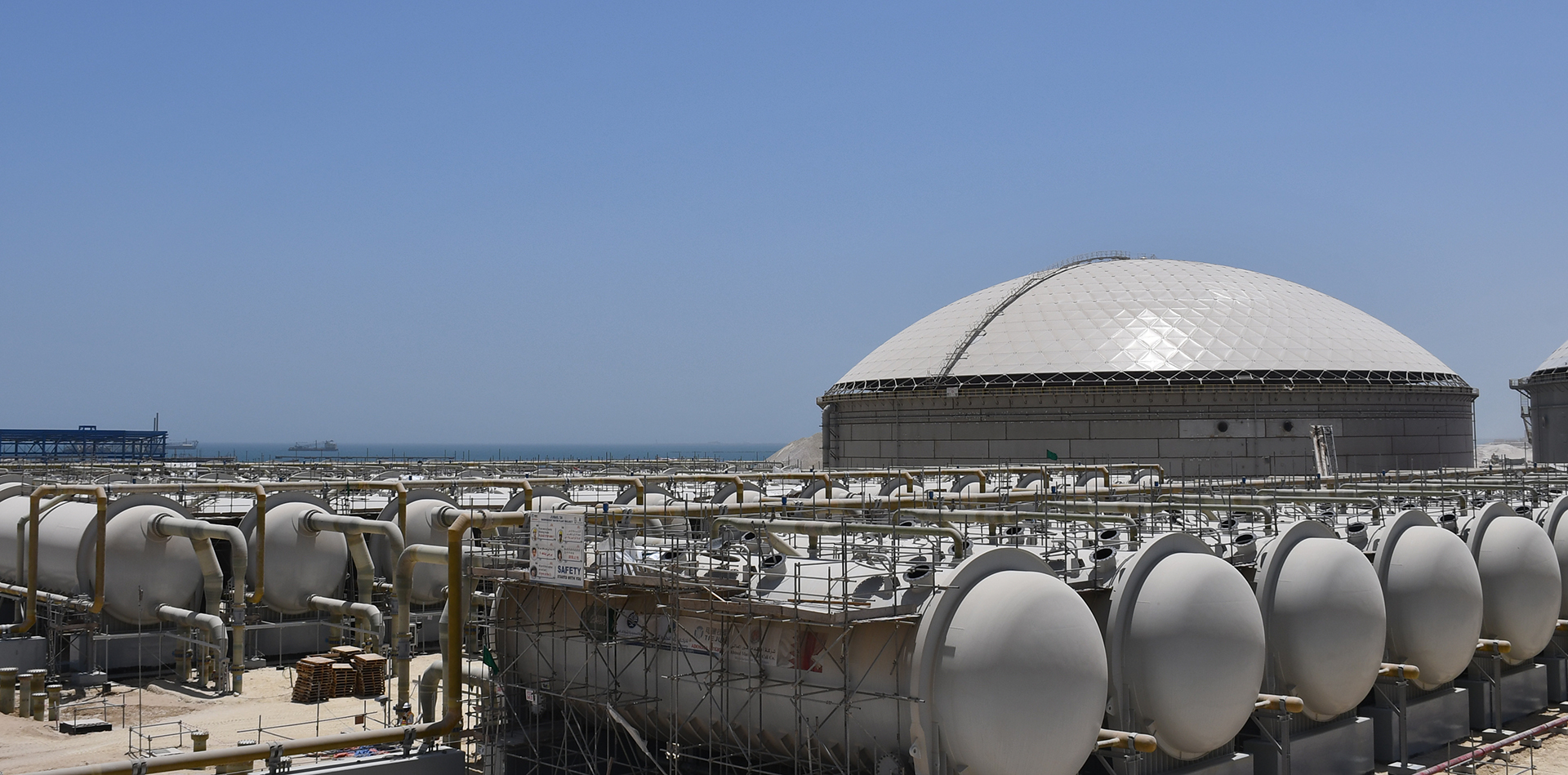 Jubail 3A Desalination Plant (Saudi Arabia)
Type of work:

Desalination

Clients:

Acwa Power

Offtaker:

Saudi Water Partnership Company

Location:

Saudi Arabia
600,000 m3/d

Capacity

1,600,000

Inhabitants supplied
Jubail 3A Desalination Plant (Saudi Arabia)
The Jubail 3A desalination plant is located in the Eastern province of Saudi Arabia, in the northeast of the country. This desalination plant, developed in 30 months, has achieved a world record for energy efficiency with a consumption of less than 2.8 kWh/m3 using seawater from the Persian Gulf. Jubail 3A generates 600,000 m3/day of drinking water to supply an equivalent population of 1,600,000 inhabitants, thus guaranteeing supply to the Oriental, Riyadh and Oassim provinces throughout the year.
The scope of the project included the construction of a 45.5 MWp photovoltaic solar plant, as well as the associated electrical installations, which incorporate the construction of a 380/33 kV electrical substation and 11.5 km of OHTL, and the connection to the high voltage electrical network. This installation supplies an average of 20% of the energy necessary for the production of drinking water with renewable energy, thus producing water in a sustainable manner. In addition, the works include the collection and pumping of seawater with the construction of 14 km of pipelines, multilayer pressure filtration, an efficient double-pass reverse osmosis system with pressure centre and energy recovery, remineralisation with lime slurry, drinking water pumping station and one-day production storage, effluent treatment and discharge outfall.
Jubail 3A is the mega desalination plant with the greatest self-supply capacity in the world, powered by energy generated by a photovoltaic solar power plant, and the largest in the country with technology reverse osmosis on the coast of the Persian Gulf. It is part of the program that Saudi Arabia launched to encourage private participation in the water sector. ACWA Power, Gulf Investment Corporation and Al Bawani Water & Power Company formed the consortium that developed this project, with the state company Saudi Water Partnership Company acting as its promoter.