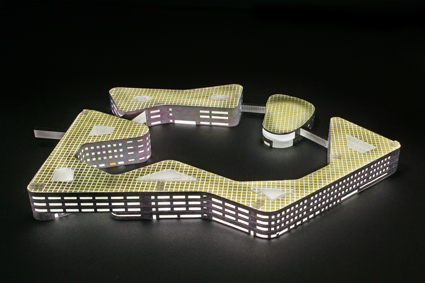 New building of the Faculty of Economic and Business Sciences of the Complutense University of Madrid
Type of work:

Building works

Clients:

Complutense University of Madrid

Location:

Spain
New building of the Faculty of Economic and Business Sciences of the Complutense University of Madrid
Lantania is executing Phase I of the new building for the Faculty of Economic and Business Sciences of the Complutense University of Madrid, Somosaguas Campus, in a joint venture with ASCH Infraestructuras. The installation will host the provision of offices for different departments, as well as classrooms, seminars and management and administration services of the Faculty. It will also be equipped with restrooms, changing rooms for the concierge staff and a garage for private use. Within this phase, the facilities building will be developed. It consists of two floors below ground and four above ground, with more than 36,500 m2.
In addition, part of this project is the urbanization of the surroundings, including communication with the classrooms and fire service accessibility, as well as the treatment accessible from the bus docks that exist on the Campus.
This university facility will make it possible to replace old buildings that suffer from functional problems, in their infrastructures and in energy efficiency.