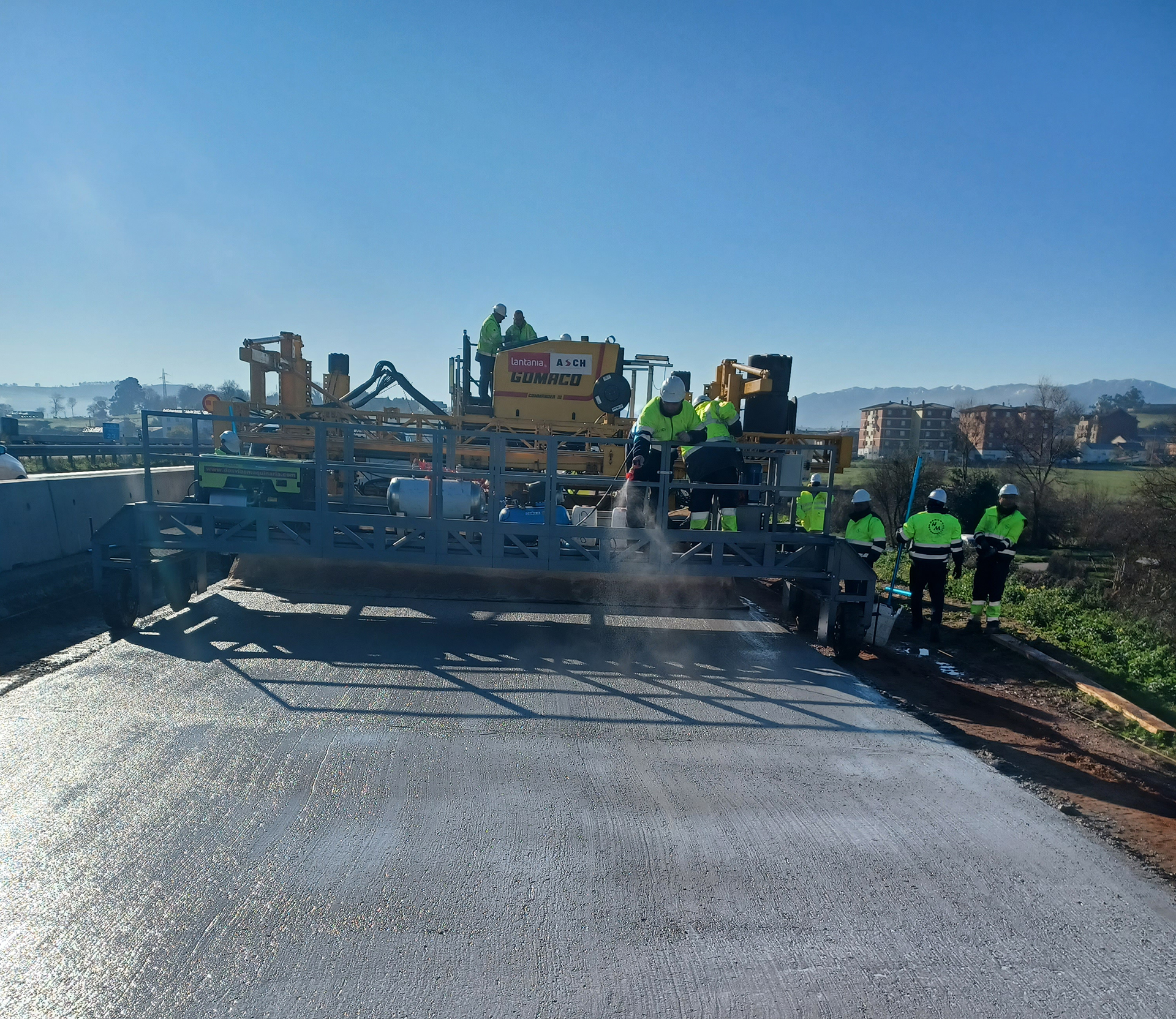 Construction of the third lane of the A-66 highway between Lugones and Matalablima (Asturias)
Type of work:

Roads

Clients:

Directorate-General of Roads - Ministry of Transport, Mobility and Urban Agenda

Location:

Spain
Construction of the third lane of the A-66 highway between Lugones and Matalablima (Asturias)
Lantania, in a joint venture with ASCH Infraestructuras y Servicios, is carrying out the widening to a third lane, along the central reservation and the outside of both carriageways, of the La Plata A-66 dual carriageway in Asturias and the remodelling of the link roads in the section between Lugones and Matalablima.
The project, with a length of 4.39 km, includes the widening of the two carriageways of the A-66 dual carriageway in the section known as the Asturian 'Y', between the Lugones and Matalablima link roads in the municipalities of Oviedo, Llanera and Siero. This expansion is being achieved through the construction of a third lane for mixed traffic, light and heavy vehicles, along the previous central reservation, preserving the platform and readjusting the transversal distribution of the carriageway and the hard shoulders. It includes new horizontal and vertical signage, widening of structures, adaptation of transversal and longitudinal drainage, replacement of affected services of the General Directorate of Traffic (DGT) and new lighting.
The Lugones, Paredes and Matalablima link roads are also being remodelled, incorporating collector roads and weaving lanes to improve the service level of the section, increasing its capacity and, therefore, road flow and safety in an area that, with a large presence of commercial facilities and residential building clusters, has a daily traffic flow of 55,000 vehicles.
Important magnitudes:
– Demolition of existing road surface: 49,800 m3.
– Site clearing: 34,400 m3.
– Soil stabilised with S-EST3 cement: 37,000 m3.
– Reinforced concrete piping for longitudinal drainage: 6.200 m.
– Concrete collector channels: 4,400 m
Sound-absorbing screens: 350 m2.
– Lean concrete on a firm base: 12,900 m3.
– HF 45 concrete for road surfaces: 15,300 m3.
– Hot bituminous mix: 40,000 tn
– Removal of road markings: 26,300 m.
– Provisional paint road marking: 153,400 m.
– Temporary concrete barrier: 31,400 m.
– Temporary vertical signs: 1,435.
– Road marking type II reflective paint: 40,700 m.
– Definitive vertical signs: 115 units.
– Definitive signage panels: 630 m2
– Porticos and transoms: 15 units.
– Concrete safety barrier: 13,900 m.
– Simple metallic security barrier: 9,000 m.
– Light points: 370 units.
– Copper cable for lighting: 29,200 m.
– DGT Fibre optic: 9,700 m