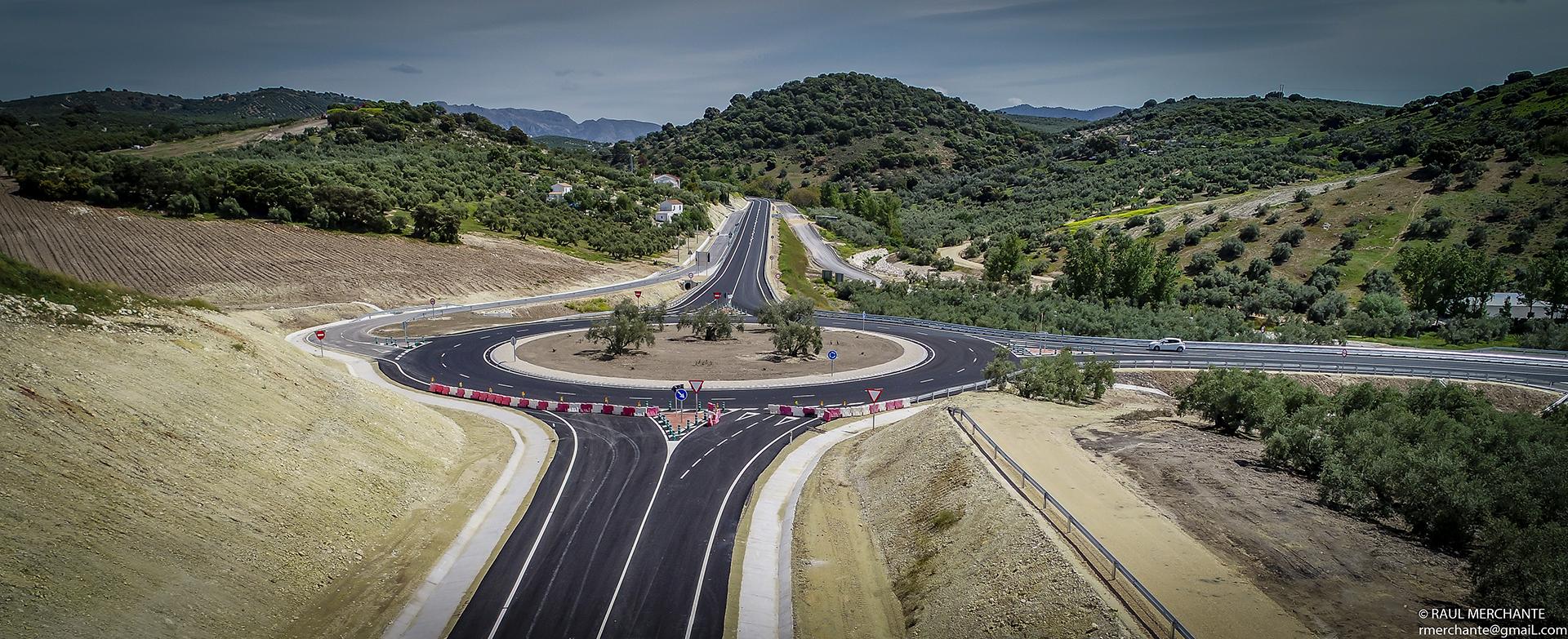 Type of work:

Roads

Clients:

Public Works Agency of the Regional Government of Andalusia

Location:

Spain
Lucena bypass (Córdoba)
The construction works of the Lucena bypass (Córdoba) with the A-311 were carried out for the Public Works Agency of the Regional Government of Andalusia. This route handles an average of 5,000 vehicles per day and long-distance traffic heading to the A-318.
This bypass, 4.1 km long, runs northwest around the municipality and avoids the passing of medium and long-distance traffic through the centre of the city of Lucena. The infrastructure begins with a new roundabout at the intersection with the A-331 and ends at an A-318 link road, the Olivar dual carriageway, in its Lucena-Cabra section. The newly constructed road has a conventional width of 10 metres in total, with one 3.5-metre lane in each direction and 1.5-metre hard shoulders at the sides.
The project included the execution of the road sections of the entrance to the roundabout from Rute and Llanos de Don Juan, which is 440 metres long, and the exit from the roundabout to Lucena, which is 250 metres long.
The route has three structures, two overpasses that cross the Priego and Zuheros roads and an underpass under the bypass. Of these three structures, the most important is the underpass, with the largest embankment of the project, which was built to give continuity to the Vía Verde del Aceite and the Camino de la Torca livestock trail.
Bus lane and cycle lane in Bajo Llobregat in Viladecans (Barcelona)
For the foundations of the underpass, more than 1,000 m of 1,250 mm diameter piling was installed.
The structures contain some 308 tn of steel and approximately 2,500 m3 of concrete.
For the riprap slope stabilisation, 10,500 m3 were used.
To make the embankments, 176,000 m3 were used and 541,000 m3 were excavated for site clearing.
To make the road surfaces, 13,500 tn of mixes, 17,000 m3 of soil cement and 38,000 m3 of lime stabilisation were used.
During the execution of the works and as part of the archaeological work, the remains of a Roman oven were found, which had to be removed and relocated.