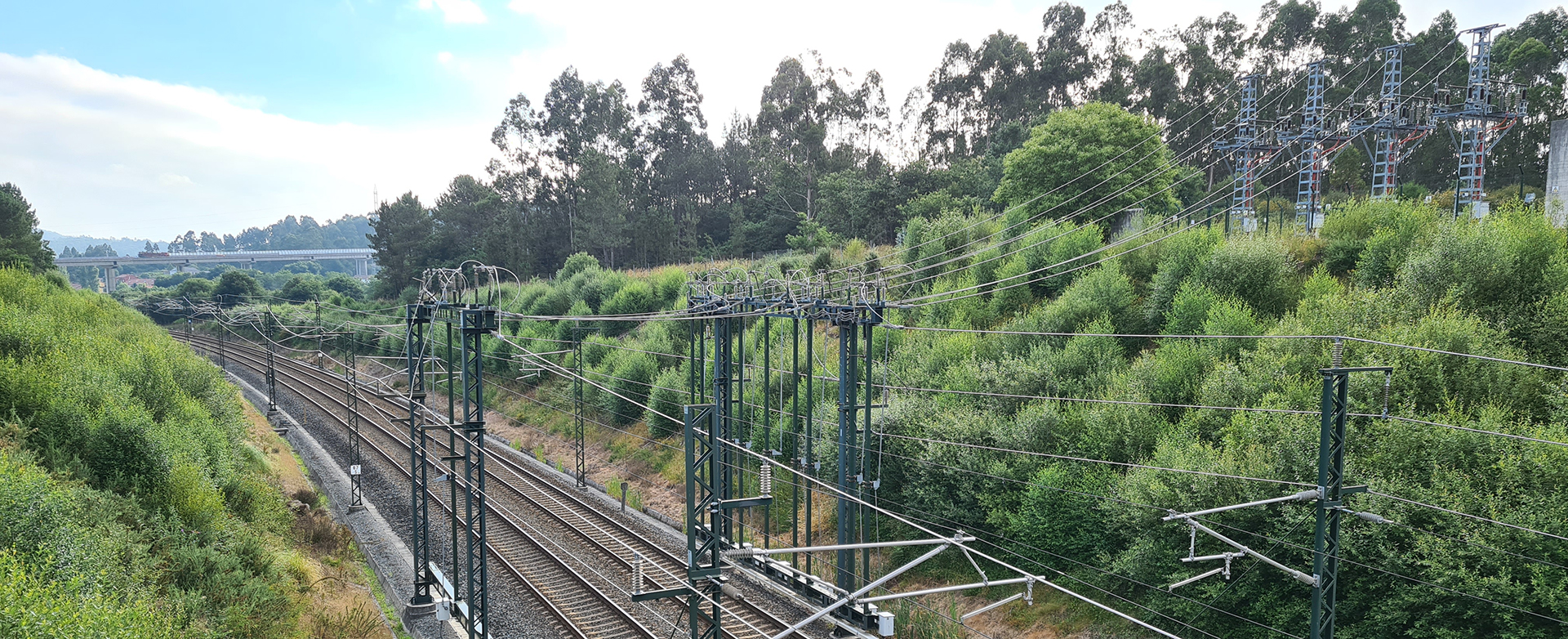 Construction of the new Tomeza traction power substation (Pontevedra)
Type of work:

Railway electrification

Clients:

Spanish Railway Infrastructure Administrator (ADIF)

Location:

Spain
Construction of the new Tomeza traction power substation (Pontevedra)
Lantania, in a joint venture with Construcciones Instalación y Tracción (CITRACC), is providing the supply of the necessary equipment for the conversion of an intermediate autotransformer station at the Tomeza (Pontevedra) traction substation, which feeds the A Coruña-Vigo Atlantic Axis.
The action affected the associated overhead line neutral zone on the section and included the subsequent start-up of the new elements by reconfiguring the control systems and integrating them into the corresponding control stations. The necessary retrofitting of the Tomeza substation included elements such as disconnectors and switches, transformers, autovalves, wiring, remote control elements and protection and control units, as well as the high voltage line to connect to Red REE (Spanish Electricity Network) and the relevant tests.
Lantania also carried out the administrative and legalisation procedures of the facilities before the different agencies, the start-up of the substation, the supply of materials for the configuration of the neutral zone in the overhead line and the reconfiguration of the necessary elements, as well as the documentation and as-built drawings.
The Atlantic High Speed Axis between A Coruña and Vigo served by the Tomeza substation was opened in April 2015. It has a length of 155.6 km and reduces the previous railway distance by 21.8 km.
Important magnitudes:
220 kV traction subestation with two disconnectors, two bipolar switches, measuring transformers, eight AT autovalves and two 30 MVA transformers.
Installation of 55 and 36 kV.
10 55 kV cubicle: two entry points, two SSAA, one coupling, one assembly and four feeder outlets.
Four 36 kV cubicle in a new prefabricated building.
Adaptation of the outdoor park of the REE (Spanish Electricity Network) electrical substation for the new line with the installation of eight autovalves, the connection of eight line terminals and eight grounding boxes.
220 kV dual-phase line (1,100 m) with two circuits and one cable per phase with a thermal capacity of 111 MVA per circuit.
Reconfiguration of the integrated control system and remote operation for energy systems. It includes the creation of new area of Tomeza with new: protections, control units, fiber cabling, interlocks, communication gateways, and integration into centralized common post of Ourense and Atocha, power quality, local operation post (POL), catenary disconnector cabling, software, switches, routers….